The greek word "Mountzouris"  means " smudgy or the dirty one…". And because the first locomotives burned coal this name was given to the  funicular railway line Diakopto- Kalavryta. It has operated from 1896 until today and is one of the most beautiful railway climbs in Greece.
This quaint little train is the narrowest cog train in Europe with rails just 75 cm wide and it is arguably the most scenic rail route in the Balkans. With a distance of 23km and a journey time of about one hour the train moves through the  gorge of Vouraikos following the river. Despite its slow pace not even the most hasty traveller has any complaints.
The train drivers are proud of what they do with no record of an accident in more than 100 years of operation. All various parts of the railway –tracks, stations, stops even 20m of the bordering railway embankment have been listed as a historical monument by the Greek ministry of Culture.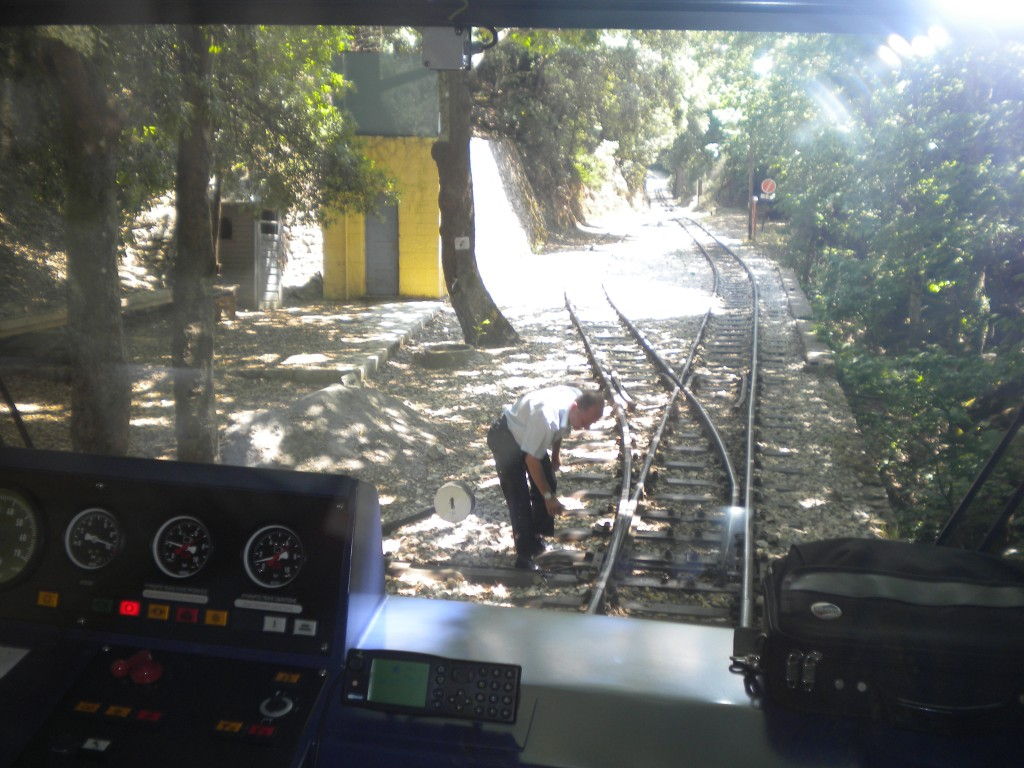 The journey through the gorge
The journey starts from the train station in the coastal village of Diakopto and ends in the village of Kalavrita in the mountains.
Buying your ticket at the train station in Diakopto village you can see on display the old steam engine named Odontotos which was in operation until 1965.
The trip with the "Moutzouri" to Kalavryta starts gently going first through the orchards of Diakopto leaving the sea behind it. The train passes the first narrow part of the gorge with its red walls which have been eroded by rainwater and continues uphill through tunnels hooking on to the tracks in an exhausting manner. "
The low gears and the tooth mechanism of the track protect the train from falling back on the big inclines. Thus, the train can climb from sea level to 750 meters safely. This then is the end of the route.
The journey through the gorge is very impressive. The train passes through a tunnel and an entrance called "Doors" which is indeed a heavy iron door – rusty and inoperable nowadays.This was opened in the old days just to let the train pass and was closed for pedestrians crossing.
The train stops at the beautiful village of Zachlorou (Mega Spileo) in the woods.This lovely village has running springwater, traditional houses and taverns with good homemade Greek cuisine. The route continues gently upwards and ends in the village of Kalavrita.It is a picturesque town with a very good tourist infrastructure and is an important winter ski resort.
Destination on map